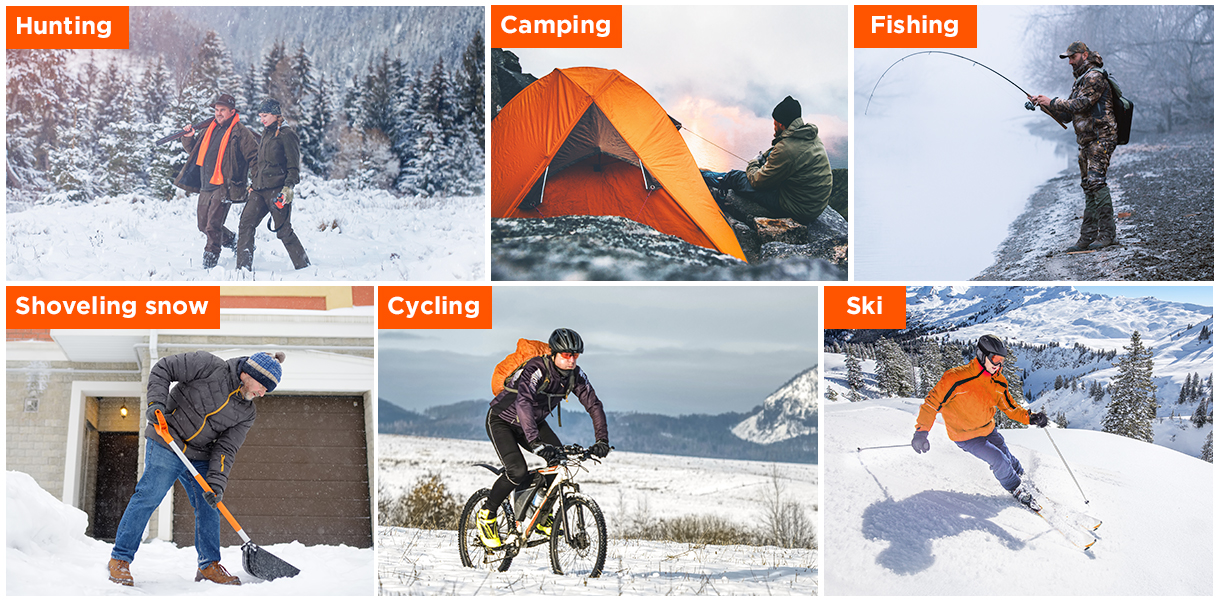 ·WHY CHOOSE US?
We are a heated apparel company. Committed to designing and manufacturing the most trusted direct-to-consumer heated apparel, also have overseas customer service teams in America(Washington)& Canada(Vancouver)& Germany (Hamburg). Started with the idea of creating a simple jacket keeps you warm and cozy in chilly days. We believe, we are more professional and more valuable. Cold weather shouldn't stop anyone from enjoying their favorite outdoor activities, whether it's hunting, working outside, or just walking the dog.

With Battery Pack
Electric Heating Vest Insulated Apparel with 7.4V 10000mAh Pack. Multiple adapters: US & EU & UK & AU, 1 × Lithium battery (The interface between heating waistcoat and power bank is DC interface only). You can take it everywhere. Meet all your demand in any situation.

·3S Faster Heat, 99.5% Heat Conversion
Heating vest features with overheating protection function to avoid it's overheated. Keep you warm while keeping you safe

·Upgrade Material
Dupont Cotton, soft and light. Machine washable. So you can enjoy winter hikes and outdoor activities with ease. Keeps you warm all winter long. ( Note: Take out power bank and put the DC plug in the bag. We recommend that you use the wash bag. )

FAQ
1.How do I take care of my battery?
For continued performance, the battery must be fully charged before use,storage, and once every 3 months of storage there after.

2. What is the best way to clean my heated clothing?
Remove the battery, hand wash or machine wash(in laundry bag) in cold water. Do not twist or wring. Hang dry only.

3.How long will the battery last while in use?
Normally(25°C/77°F), the battery will last approximately 10-12 hours on low, 6-7hours on medium, or 3-4 hours on high.

4.What's the temperature when the vest in use?
At ambient temperature of 25°C/77°F testing, the heat will up to 55°C/131°F on high(Red Light), 45°C/113°F on medium (White Light) and 38°C/100°F on low (Blue Light).

5.Where is the battery located on the vest?
The battery pocket is located on an inside pocket in the left lower corner.
Smart Temperature Control
Premium YKK Smooth Zipper